McLean, Va - December 20th, 2018 - Coras, a pioneer in Work Management since 2003, has released a new update to our product that you can use today. These features will help you stay connected and on top of your game. At Coras, bringing you and your organization together as an efficient and productive team is our top priority. Mind Maps bring an important visual to individuals and team projects in which they can view the overall plan. The new Gantt update allows you to instantaneously update and add tasks to your schedule; as well as, tie tasks together to keep a schedule in just a push of a button."
Updates:
Mind Map: Fully Interactive mind map you can edit/add/remove tasks | Seamlessly move items between projects | Zoom out to get the big picture or Zoom in to get the details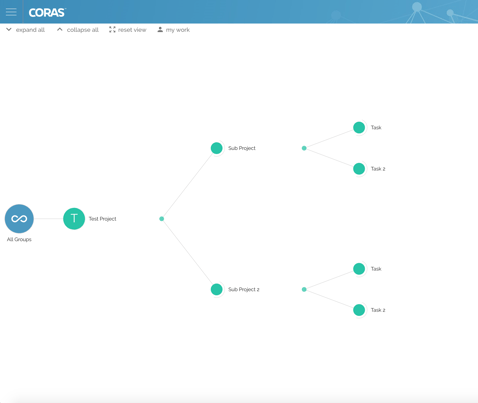 Gantt: Zoom in and Zoom out to see different date ranges | Printable schedule | Adjustable dependencies from task to task
As the leader in business agility, CORAS is disrupting business-as-usual by creating a solution that takes the place of multiple software programs and combinations. Working independently or in tandem with clients' existing programs, CORAS provides aggregated data, iterative processes, reporting, mind maps, apps, and transparency throughout users' organizations. CORAS offers solutions in mid-market and enterprise level companies, including a flexible foundation for running your business; giving managers, project managers, and other stakeholders the tools they need to effectively manage their projects. This core work management functionality is supported by a wealth of other key features, including BI/Analytics and Process Improvement.
To learn more about CORAS, visit us at Coras.com or contact (703) 797 1881 #41.
Coras Headquarters

7918 Jones Branch Drive, Suite 850

McLean, VA 22102

Sales Information

(703) 797 1881 ext. 41